Honor's Points
Honor's activities include: Service, Leadership (if applicable), Cultural/Intellectual, and Honors Activities points.

Make this easy for the reviewer – this is your goal. Use the DAPR method as outlined below.
Start with the subheading of FALL 2017. Then as you add each activity, list the date, the name of the activity, a picture, and a short reflection.
Your reflection should include what the activity consisted of, what did you learn and/or like about the activity, and justify your answer.
FALL 2017
(D)ATE                          
(A)CTIVITY
(P)ICTURE
(R)EFLECTION
*Maybe the acronym DAPR will help (Date, Activity, Picture, Reflection) Do this for each point page you have. This is your only requirement.
You should indicate the # of hours you worked for the Service activities.

Additional Helpful Information
Read this post to find out more: Finding Your Voice
What is an ePortfolio?
Why use an ePortfolio?
Where do I start to create an ePortfolio?
41 Benefits of an ePortfolio
Once created, use the FORM at the bottom of this page to submit your name and the link to your ePortfolio.
You will need to add top-level pages or sub-pages to your ePortfolio for each Honor's Point activity. See below.
You will log each activity that you participate in here in this section. Again, adding pictures and videos to this experience will enhance the visual appearance and will also be a way for you to document and reflect on your learning. After you have logged the points by
Date, Activity, Time on one line, you'll need to write a paragraph (4 sentences) that reflects upon your experience with something more than just "I really enjoyed this activity because…."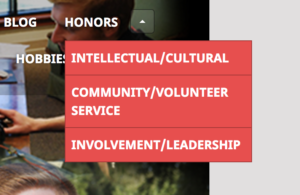 How often and when do I contribute?
You can contribute to your ePortfolio as often as you'd like. It would be my best advice to start early and document your experience as you go. Technical support will be limited, but we will help you get started by showing you some basic information on how to get set up.
See below for a final checkpoint at the end of each semester.
How can I tie my research and course work into my ePortfolio?
Make a research tab and/or course tabs. You can house your artifacts and ideas any way you like.
Honor's Students ePortfolios
This is a list of honor's students' ePortfolios you can look to for examples.

Jackson Dolce: https://jackdolce.wixsite.com/portfolio/blank-1
Emily Robinson: https://emilyrobinson12.wordpress.com/reaud-honors-college-activities/
Joissy Grimaldo: https://joissygrimaldo.wordpress.com/involvement/
Samira Ahmed: https://ahmedsamira.wordpress.com/
Naomi Raczkovi: https://nraczkovi.wixsite.com/mysite/honors
Daniel Quispe: https://quispedaniel6496.wixsite.com/eportfolio/cultural-intellectual
Hannah Roussell – Education
Aleksander Allen – Engineer
Manisha Patel – Engineer
John Ellis – Marketing
Progga Chirontoni – Engineer
Once created, use this FORM to submit your name and the link to your ePortfolio.
Submit the link to your ePortfolio by using this form. You only need to submit ONCE. As you make changes to your ePorfolio, the link you share will reflect those changes.